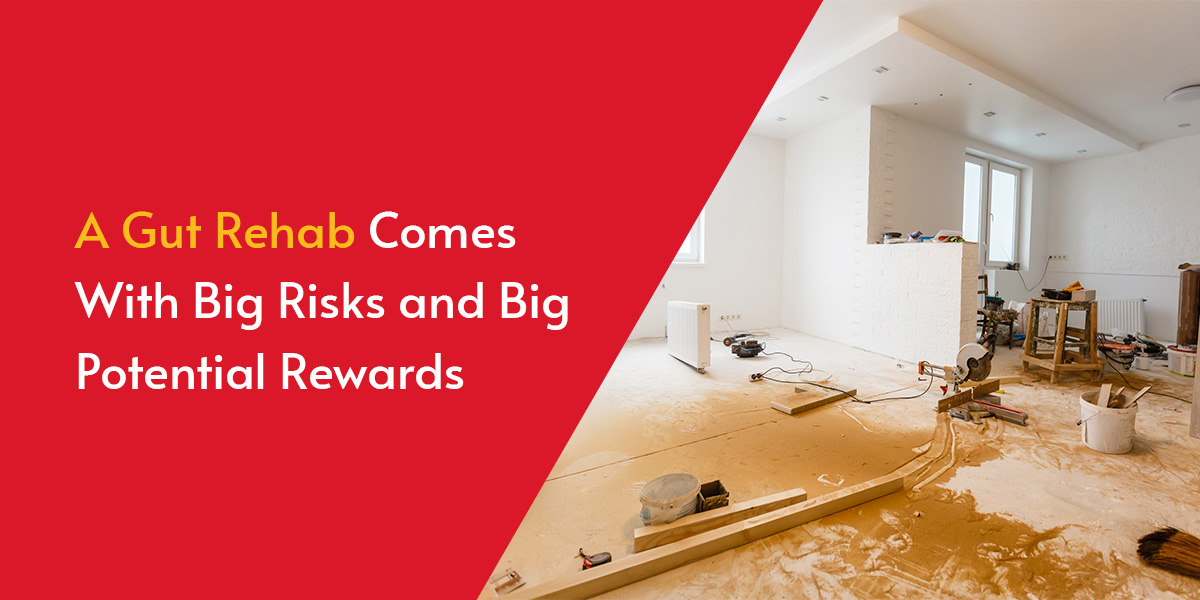 When renovating a home, sometimes you just want to focus on smaller projects. Other times, you may require major renovations or full gut rehabs.
What Is A Gut Rehab?
A gut rehab is a project that involves major restoration to a space in the form of removing all fixtures, materials and everything else down to the studs and then building it back up. Unlike a normal renovation, which usually only involves certain areas, a full gut renovation is essentially a restart.
Builders will strip the home down to the foundational elements to rebuild the design. Since only the basic structure of the home is left, this allows for a lot of freedom in designing and construction. Full gut rehabs are most often needed in older homes that are beginning to fall apart.
When done right, a gut rehab can put a tidy profit in your pocket. It has more potential upsides than a more superficial fixer job. But it also has more potential downsides, so it's important to make sure you do things right.
Now that you know the meaning of a gut renovation, read on to learn more.
Gut Rehab vs. New Construction
In new construction, a contractor builds your home on vacant land. From laying the foundation to adding a roof, everything in the home is new. With a gut rehab, you purchase an existing home with the intent to renovate it so that it fits your needs. There are pros and cons to both options, so consider factors like location, home layout and whether you're willing to live through a renovation when selecting the option that's best for you.
Gut Rehab vs. Renovation
A renovation refers to a concise, specific home update. Rehabbing a house is a comprehensive project that involves more work and a complete overhaul.
You might be deciding whether a full gut rehab or a simpler renovation is best. Ultimately, this will depend on your unique situation. Consider these factors when making a decision:
Scope: A renovation will probably be a lot easier to undertake than fully gutting your home. A gut rehab, on the other hand, offers benefits such as increased resale value and better control over the project.
Convenience: During a gut rehab, you'll deal with more construction, which can interrupt your daily flow. A renovation will be secluded to a certain portion of your home.
Time: A lot of your decision will be based on how much time you want to spend on your home. If you're willing to devote your energy to a large overall project, then a gut rehab may be the way to go.
Pros and Cons of a Gut Rehab
A complete remodel and rehab is a significant investment — that's why it's important to understand each project's full scope. Determine if a full rehab is best for our needs with the pros and cons listed below.
Pros
Although at first glance a full gut rehab might seem like too much work, there are many reasons why it's popular. Some of these benefits include:
Control: Even in a normal renovation project, you're often confined by your home's layout. You may not have exactly what you want because of prexisting issues or structures inside your home. In a complete gut rehab, you're able to build from the ground up and have full control. You'll be able to build a design that suits your needs without worrying about other interior factors inside your home.
Freedom: You'll also have more freedom during the building process. You won't be tied to the designs from past owners or past renovations — you can start from scratch, constructing your interior dream home from the existing structure.
Resale value: A gut rehab can significantly increase your home's value. If you're able to build with popular trends in mind, you could profit when you sell your home. Even though you will be investing in the rehab initially, it will likely pay off in the long run.
Cons
Though there are plenty of pros to think about when it comes to a full gut rehab on your home, there are also a few potential pitfalls:
Time: A full gut rehab likely won't be a fast process. While gutting might be quick, you'll still have to spend a lot of time in the design and construction phases. If you have the time to do this, you're good to go. If you have limited time, you may want to consider a different strategy or more delegation to move the process along.
Cost: Full gutting projects require a sizable investment to tear down the interior and complete construction. While you will pay more upfront, you may see a sizeable return if you sell your home. Your budget will determine whether rehab is the best choice for your home.
Risk: There is some risk involved when you undertake a full gut rehab. Even though you have more control and freedom over the design, it still may not end up exactly how you as planned. A variety of factors can affect the process, so it's important to keep this in mind before you start the gutting project.
A gut rehab has essential pros and cons that can impact your final project. When you're in the early stages of making your decision, it will help to take a look at both sides so that you can make an educated choice.
Home Inspection Before Buying a Gut Rehab Project Home
A gut rehab involves extensive work. Some of that will be structural, such as removing internal walls to create more space. However, some structural jobs are far more expensive than others, such as foundation issues.
It is imperative that you have a good inspector on your side. The property needs to be inspected before purchase. You don't want any major surprises after closing on the property. One major structural issue during a total gut rehab can be the difference between profit and loss, even when the potential profit is in the tens of thousands of dollars.
Ideally, before you buy, you should know roughly what the potential resale price for the property will be. You can determine this by finding prices for properties in the same neighborhood that are in good shape and similar in size.
Planning a Budget For a Gut Rehab
You will need to develop a budget. Always pad the budget a little to allow for unexpected expenses. Rehab jobs always involve some surprises. Make sure your full rehab budget leaves plenty of room for profit at resale.
The price you pay for the house is going to be a big line item in your budget. If you do some of this research and number crunching before making a bid, it can help you determine an appropriate price for the property.
Getting a Construction Loan for A Gut Rehab
You will likely need a construction loan to cover the costs of doing the work until you can turn the property around for a tidy profit. Knowing your expected budget before applying will help with getting the right loan amount for your needs.
Kitchens and baths are both potentially expensive to upgrade. They also are both a big part of what sells a property. Keep in mind that new kitchen cabinets can be more than half the cost of a kitchen remodel. If you can freshen the kitchen up without having to replace the cabinets, this can be a budget-friendly means to plump up the resale price.
You will need to assess whether or not the property needs plumbing, electrical or other basic upgrades. These would need to be done before cosmetic work. You don't want to put in wallpaper, then put holes in to do other work.
Gut Rehab Contractor or DIY Gut Rehab
Do you know how to gut a house? If not, a good construction company will know the proper order of work. If you are doing it yourself, especially if it is your first time, you will want to make sure to do some research and write down your intended order of work. Then ask yourself if that makes sense or double-check if there is a conflict there.
It can help to create a Gantt Chart showing the order of the work. This is a commonly used tool in the construction industry.
Choose Timeless Trends
When rehabbing a house, you will want to make sure it's attractive to buyers. Spend some time looking at what's trending and what has remained popular over the years. A good approach is to go with a lot of solid classics topped off with a few trendy touches to keep it current. This may be relatively superficial touches, such as paint color or wallpaper, or it may impact bigger ticket items, such as the type of flooring or appliances chosen.
If you buy the worst house in a decent neighborhood or an up-and-coming neighborhood, it is possible to make tens of thousands of dollars of profit in a fairly short period of time. A house bought for $50,000, rehabbed for $30,000 and sold for $120,000 adds up to $40,000 in profit.
Good Planning Makes the Difference
When considering a gut rehab, good planning makes the difference between a disaster and a successful project. You can avoid the common pitfalls of a gut rehab and even turn a profit with a little planning before getting started.
Call Beantown Builders for Your Gut Rehab Needs
We help prospective buyers, investors and homeowners build property value through redesign, modernization and construction. By providing a comprehensive, one-stop service, we build you beautiful spaces on budget and maximize your investment.