Deck and Porch Building Services in Boston and Surrounding Areas
A new porch or deck will transform your home, and Beantown Builders is your local contractor for creating your dream design. We have over 40 years of experience serving the local Boston area and are one of the region's leading porch and deck building companies. Let us show you all the ways we can help you get the most from your home improvement and enjoy a new deck.
Our team is also equipped to handle any existing porch repairs or replacements. If you need your existing porch repaired, our team will complete the work to make your porch safe again.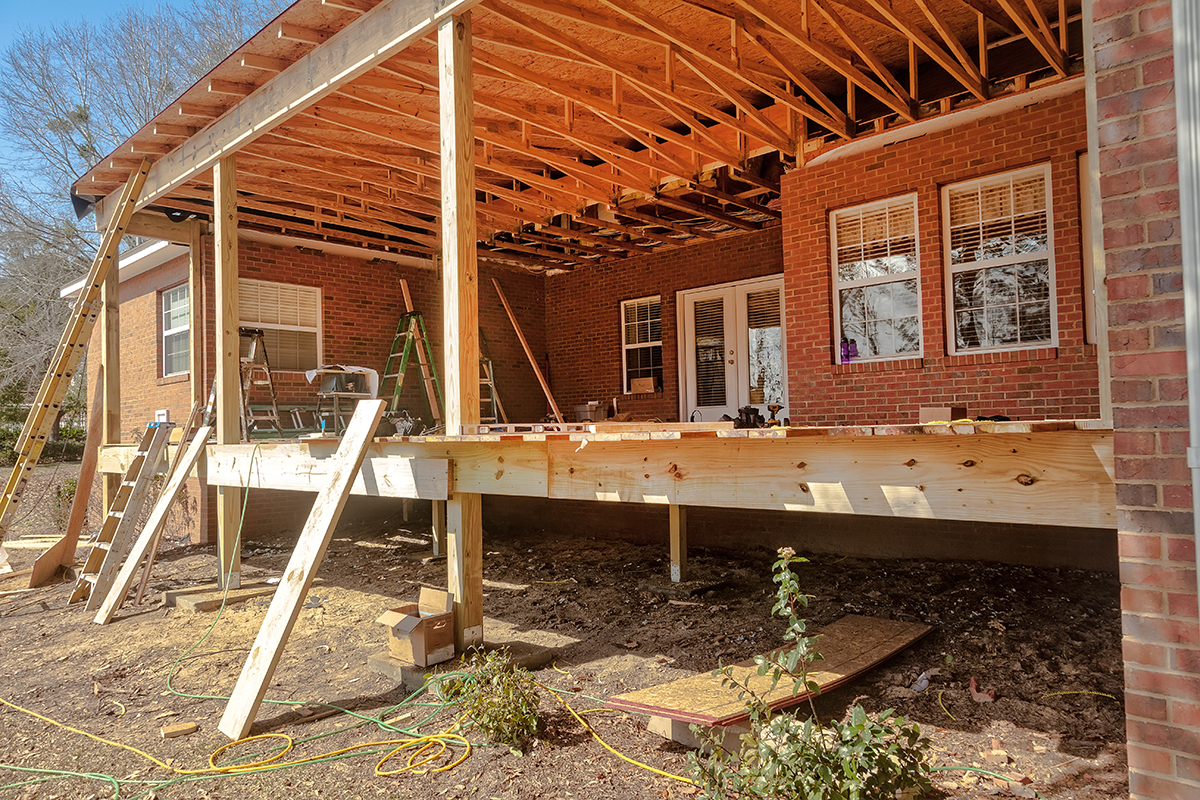 Porch and Deck Construction Services for Boston-Area Homes
A custom porch or deck is a lasting addition. If you're considering adding a new deck to your home, we'll provide you with an enjoyable experience from start to finish. Our team takes care of everything, starting with initial drawings and permitting and following through completion. You can count on us to manage all the details and keep you informed. Our services include the following:
Design services: Our in-house architectural design team will bring your ideas to life. They will also ensure your new design is structurally sound and built to all applicable building codes.
Construction services: We are a licensed general contracting company. We'll help budget the project, develop a plan, source the labor, and oversee the entire process through final inspection.
The Benefits of Installing a New Porch or Deck
Adding a new deck or porch offers significant advantages, whether you're replacing an existing build or working with a blank slate. When you work with us, you'll get to choose a custom look, get the features you want and enjoy a professional installation from a leading Boston deck builder.
Additional benefits of getting a new porch or deck on your Boston home include:
Space: One of the top reasons to install a new deck or porch on a single, two or three-story home is the added square footage. We'll help you create space where you can experience the outdoors without leaving your property.
Appeal: A new deck or porch makes a significant aesthetic improvement to the landscape. This aspect is especially true when you partner with professional deck contractors like us who offer design services and use top-quality materials.
Value: Having an attractive, high-quality deck or porch on your home designed and built by experts will almost always add value to your residence. It will also impress potential homebuyers, driving an even higher market value.
Expert Deck and Porch Repair
At Beantown Builders, we are one of the most established deck and front porch contractors in Boston and the surrounding areas. Our team has extensive experience working on single and multi-story decks built on homes throughout the Greater Boston Area.
Our deck and porch services cover a wide range of different repairs, including board, post and stair replacement, new nail or fastener installation and surface refinishing. Let us know if you spot damage and we'll provide you with a professional recommendation from our experts.
Consider Beantown Builders for Additional Exterior Home Remodeling Near Boston
New Siding: New siding offers a range of advantages. When you upgrade, you can benefit from boosted curb appeal, better energy efficiency and increased property value. You can also reduce your annual maintenance commitments. Our team will look for any structural damage hidden beneath your current home exterior and provide you with solutions.
Window Replacements: If your heater and air conditioner are working harder than usual to regulate your home temperature, the source could be your windows. The Department of Energy estimates poorly insulated windows cause up to 30% of home energy losses. Replacing them with insulated, energy-efficient options will make your house more comfortable and noticeably decrease your monthly bills. New windows also help soundproof your home, add value and boost curb appeal.
Request a Free Consultation for Porch and Deck Construction in Boston
If you're thinking about upgrading your home with a new porch or deck, we'd love to help you make your vision a reality. We're happy to provide a quote on your porch rebuild or addition in our Boston service area. Message us today through our contact form to get started.