Are you considering a home renovation but struggling to figure out if it would be easier to move? Changing your living situation is a huge and exciting decision that comes with many financial and lifestyle implications. There are positives and negatives to both situations and several factors you should keep in mind before deciding.
Adding an Addition vs. Buying a New Home: Pros and Cons
When considering if it would be worth it to put an addition on your house, make a pros and cons list. Keep these examples in mind during your decision-making process:
Pros of Home Additions
The benefits of home additions include being able to:
Incorporate your preferences: The great thing about adding an addition to your current home is all of the decisions are up to you. You won't have to compromise in the same way you might have when looking for a new home. If you're completely set on a particular style or design element, you can achieve it with a home addition. You can also take all the credit for how great it looks when it's finished!
Add more value: Adding an addition to your home can be a great way to increase your home's value. A home addition typically costs less than moving to a completely different place.
Keep your emotional attachment to your home: If you've lived in your home for a long time and have many positive memories associated with it, it might be more complicated than you think to move away. Adding an addition can seem like a fresh start without feeling like you're leaving those good memories behind.
Decrease risk: With a move, there's no guarantee when your home will sell or if it will sell for as much as you want it to. With a home renovation, you have a plan for getting everything done that you want to.
Cons of Home Additions
If you plan to get a home addition, keep these considerations in mind:
Increased property taxes and other expenses: Your property tax is based on your home's value. So, if you add square footage to your home and increase its value, your property taxes will also increase. When doing a renovation, you'll also likely run into expenses you did not account for, or you might run into delays that will increase the overall price, as well. Preparing with cushions in your budget and timeline can help ease some stress.
Decreased property space: If your family loves spending time outdoors in your backyard, you'll want to keep in mind that a renovation might reduce the amount of property space you have. Consider a second-story addition if you want to expand your living space without reducing your yard size.
Potentially added stress: There are some stressors involved in adding an addition to your home, including prolonged noise, construction debris and the presence of a construction crew multiple days a week. The length of a home addition process can also lead to stress. But consider that looking for a new home, putting in offers and selling your current home can also cause stress and take a lot of time.
Questions to Consider
Now that you know some pros and cons of adding a home addition, ask yourself some questions to figure out which option best fits your needs. The following questions are a good starting point to help you decide between moving and renovating your current home:
Do You Like the Location of Your Current Home?
Before deciding to move or add an addition to your home, see if you're content with your current location. You should ask yourself what exact changes you're looking to make. If you love your neighborhood but need to add a bedroom or make the living area larger, it may be a good idea to add an addition. If your current location means an extra-long commute to work or you're unhappy with your neighbors or neighborhood, moving might fit your needs more.
If you have children, also consider your preferred school district. If you and your children love their current school, moving into a new community might present some challenges for them.
Will Adding an Addition Provide a Return on Investment?
A home addition is often a great way of adding value to your home. In 2021 in New England, a midrange main bedroom addition recouped 54.8% of its value, and a midrange bathroom addition offered a 50.3% return on investment (ROI).
Receiving a good ROI depends on a couple of factors, including the real estate market and the timing of the project. An intelligent home addition can be worth it, as it increases your home's value.
Just note that if your renovation makes your home far exceed the value of other houses in your neighborhood, it might make your home much more difficult to sell down the road. If you choose to renovate your home instead of move, be careful not to overbuild.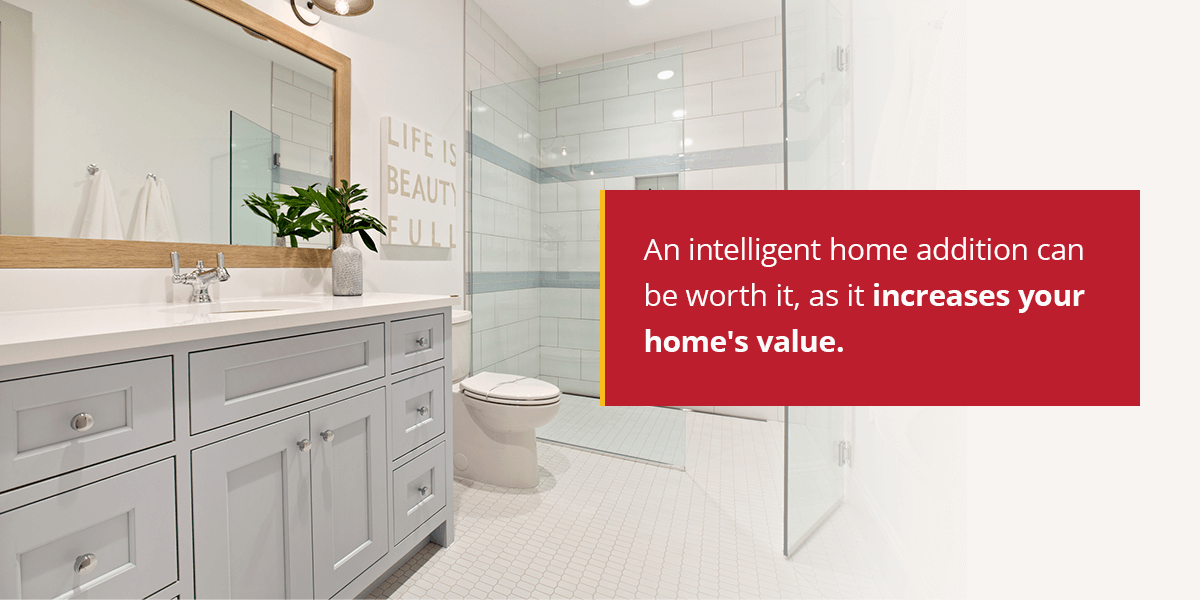 Are You Able to Live Through a Renovation?
Renovating your home is undoubtedly exciting. However, it can also be a tiring experience. Construction can last for several months, and if the addition is happening in an area you use every day — like your kitchen or bedroom — you'll have to make a plan for working around the construction zone. If you want to do a main bedroom addition, do you have a guest bedroom or another area you'd be willing to sleep in until the renovation is done?
Likewise, you'll want to consider the situations of those you live with. If you have kids, will the construction zone be something they can work around to do homework? If you or your partner works at home, will you be able to work productively during a renovation? If you have a pet, will the renovation pose stress to them?
You also need to take steps before beginning a home renovation, including submitting a home addition floor plan to the city and getting a building permit for your home addition project. A contractor can help you in this area.
Try to go in expecting that a project might take longer than it's supposed to. That can help you make plans to stay with a friend or family member if the renovation becomes too much to live with.
In this way, moving can seem more convenient. You might even be able to move right into a home that doesn't need any work done to it, so all you have to do is unpack. Although the process of listing, selling and closing the deal on your home can take a couple of months, once you've sold your house and found a new one, the actual moving process is much faster than a renovation.
Are You in a Good Position to Apply for a Mortgage?
Buying a new home means you'll need a tip-top credit score to apply for a mortgage. If your score has recently dipped or has been low for a while, you'll either need to figure out a way to raise your credit score or consider a renovation instead of a move.
In addition to needing money for a larger mortgage, you'll likely need to set aside some funds to "fix up" your current home before putting it on the market. Or, maybe you don't want to apply for a new mortgage, in which case it's better to add on than buy a new house.
What Is Your Budget?
A home renovation is generally cheaper than moving to a new home. In addition to the money it takes to fix your home before listing it, there are also costs associated with marketing your home, vacating the house, pre-inspection and landscaping, all of which can really add up.
When you're renovating, understanding how to finance a home addition and having a detailed financial plan in place are key. As with any project, unexpected costs are likely to pop up. Set aside a contingency fund to cover the expenses.
Beantown Builders Offers a Comprehensive Home Remodeling Package
Beantown Builders is your one-stop shop in the Boston area if an addition is right for you and your family. Our skilled team of contractors can manage your project at every step of the way, including helping you get a building permit for an addition to your home. We're dedicated to excellence and giving your home the care and attention you deserve.
Call (617) 291-8501 for a free consultation or request a quote online and get started achieving the home of your dreams today!