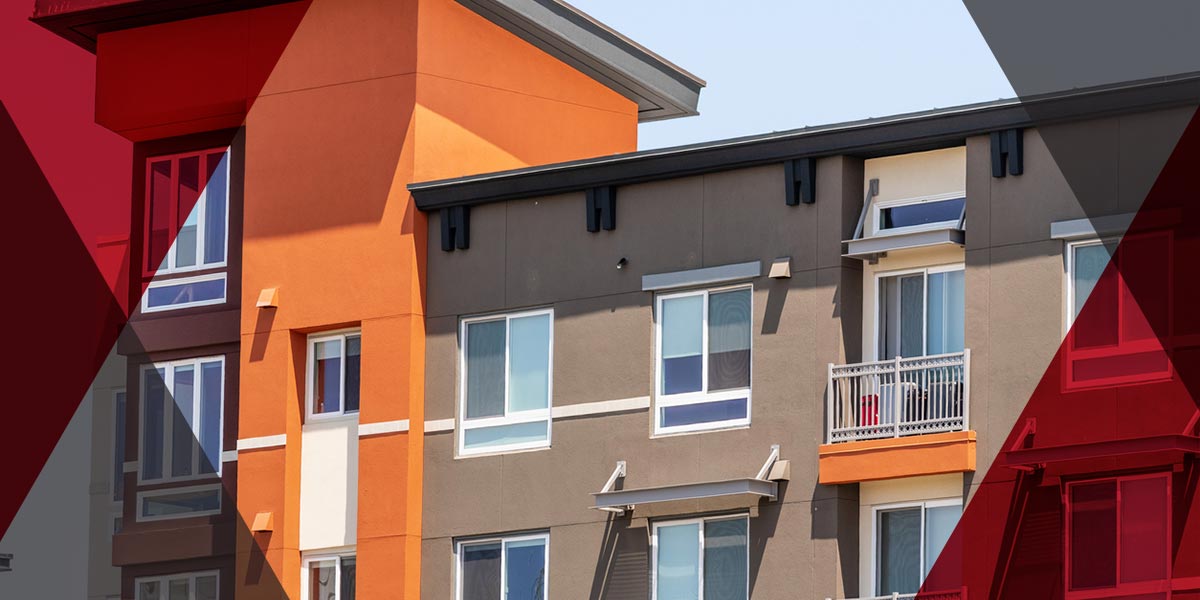 In many places, people often segregate buildings based on their function. You may find grocery stores surrounded by other shopping destinations while residential apartments and homes are grouped together in another location. However, this isn't always the case. Throughout history, building houses on top of or next to taverns, inns, restaurants or other establishments was common.
There are many advantages to setting up areas in a community-like way. Continue reading to learn about mixed-used buildings, how they can benefit residents and business owners and the different types you might find.
What Is a Mixed-Use Development?
A mixed-use building often includes residential units, entertainment venues, retail spaces, medical offices and more, all located in one space. Overall, mixed-use real estate ranges broadly, from one building with retail space on the bottom floor and a residential area on the top floor to an entire community of buildings, sometimes called an "urban village."
These developments can come in various shapes, scales and sizes. A mixed-used development can be vertical or horizontal, allowing various real estate types to exist in a smaller, collective space. Additionally, multifamily homes are often part of mixed-use developments, where they reside on the top floors of the businesses in the building.
The construction of a mixed-use building provides three or more significant revenue-producing uses, which can include:
Retail stores
Hotels
Entertainment venues
Bars
Law or medical offices
Residential apartments or townhomes
Recreational spaces
Restaurants
The combination of different real estate types is broad, allowing cities and towns to develop properties that suit local and investor needs.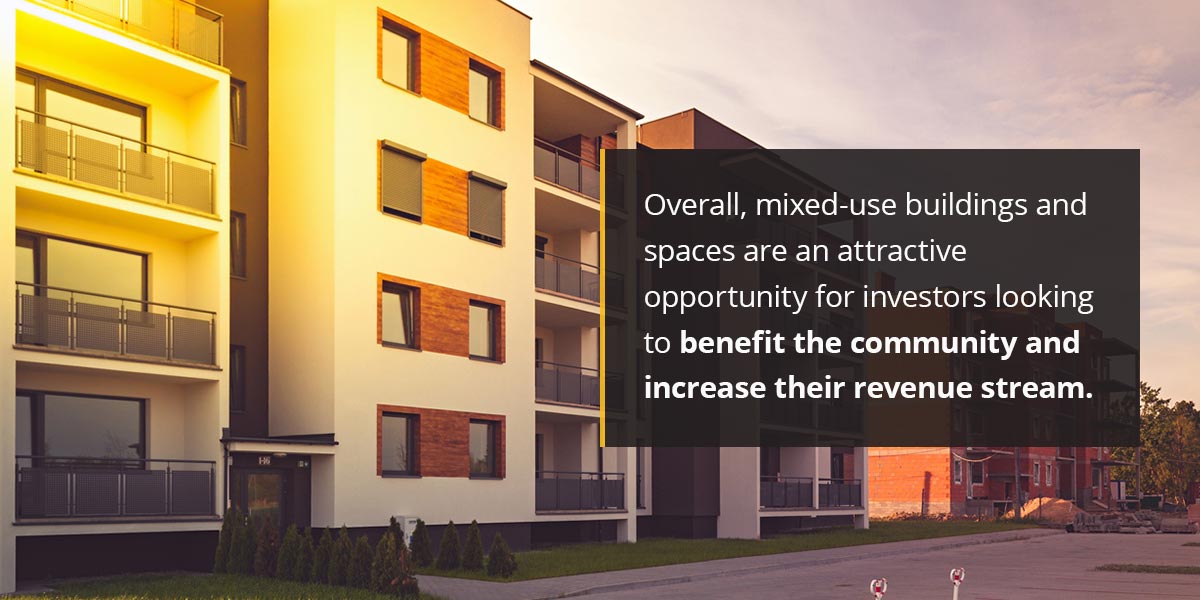 Advantages of Mixed-Use Buildings
Overall, mixed-use buildings and spaces are an attractive opportunity for investors looking to benefit the community and increase their revenue stream. Here are the top benefits of mixed-use development:
1. Significant Appeal to Consumers
Arguably the most significant benefits of mixed-use developments are convenience and accessibility. When these spaces feature residential apartments or townhomes, it allows individuals to easily reach the things they need or want, such as restaurants, grocery stores, doctor's offices and various services. Even people who don't live in these areas enjoy the walkability of these buildings and developments, as it's easy to get from one place to the next.
Of course, commercial companies rely on individuals to keep their businesses running. Having their customers living nearby or within the same building makes commercial businesses favor these locations more to set up their business, which is excellent for investors and residents.
2. Quality Commercial Tenants
Commercial businesses are often excellent tenants because keeping their areas clean and in good condition is essential in attracting customers. Commercial leases also have looser consumer protection laws than residential leases, making the relationship more flexible for the leaseholder. The association is often less challenging and more professional than those with residential leases.
Commercial leases allow for net lease agreements, enabling investors to pass on maintenance fees, property taxes and building insurance to the commercial tenant in exchange for a lowered rent. These leases are popular among investors because they allow them to have a steady income with low risk. While mixed-use spaces often include residential tenants, adding commercial tenants can help supply an annual return for investors, making the development all the more enticing.
3. Sense of Community
One of the main benefits of mixed-use buildings or developments is the sense of community they foster among individuals and businesses. With everything nearby, residents are more likely to spend their money on local companies and develop a sense of loyalty. Commercial properties also give back to their communities, offering goods and services to those nearby.
People within the community are more likely to support one another in their time of need. It also encourages the renovations of residential buildings and the introduction of multifamily homes to help improve the overall value of the area, which boosts the quality of living for current residents and introduces new clientele to local businesses.
4. Traditional Shopping Experiences
While many people shop online, the demand for brick-and-mortar shops will always be present — there are still services consumers can only receive at in-person locations, such as hair salons, movie theaters, coffee shops, restaurants and medical clinics. Mixed-use buildings provide an excellent opportunity to include many of these destinations in one place.
One mixed-use development could consist of a small theater, a salon, multiple restaurants and a few clothing boutiques on one street within walking distance of a person's residence. Sometimes, a person may even live on the top floor of a business, making it easier than ever to shop for what they need.
Mixed-Use Development Examples
There are different types of mixed-use buildings and developments, which include:
1. Main Street
The "Main Street" model is one of the most popular mixed-use developments in the United States. Every town or city has a main street with shops, entertainment venues and more with residential units on the second or third floor of these buildings, though some units may exist behind the storefronts. These mixed-use developments are popular among residents who live on the street and elsewhere in town.
2. Vertical Developments
Vertical mixed-use developments combine numerous businesses, such as coffee shops or restaurants. There may be residential condo units or hotel rooms on the higher floors to accommodate individual living spaces, drawing people to the businesses on the lower floors and surrounding areas. Some spaces on the higher floors may even be reserved for office spaces for business professionals.
3. Horizontal Developments
These developments include multiple businesses and residences in a lot rather than a single building. These mixed-use developments allow businesses to grow around a walkable community that attracts numerous patrons. In many places, investors will repurpose abandoned buildings to meet local needs, leasing to businesses that would benefit the community. Horizontal developments can include restaurants, banks, offices, shops and other business types.
4. Shopping Mall or Department Store Conversions
Abandoned shopping malls are an excellent opportunity for investors. This mixed-use development is an excellent way to breathe life back into an abandoned but valuable property. By using the existing structure, developers can completely revitalize these old buildings, turning them into renovated apartment buildings for residents with access to numerous nearby businesses.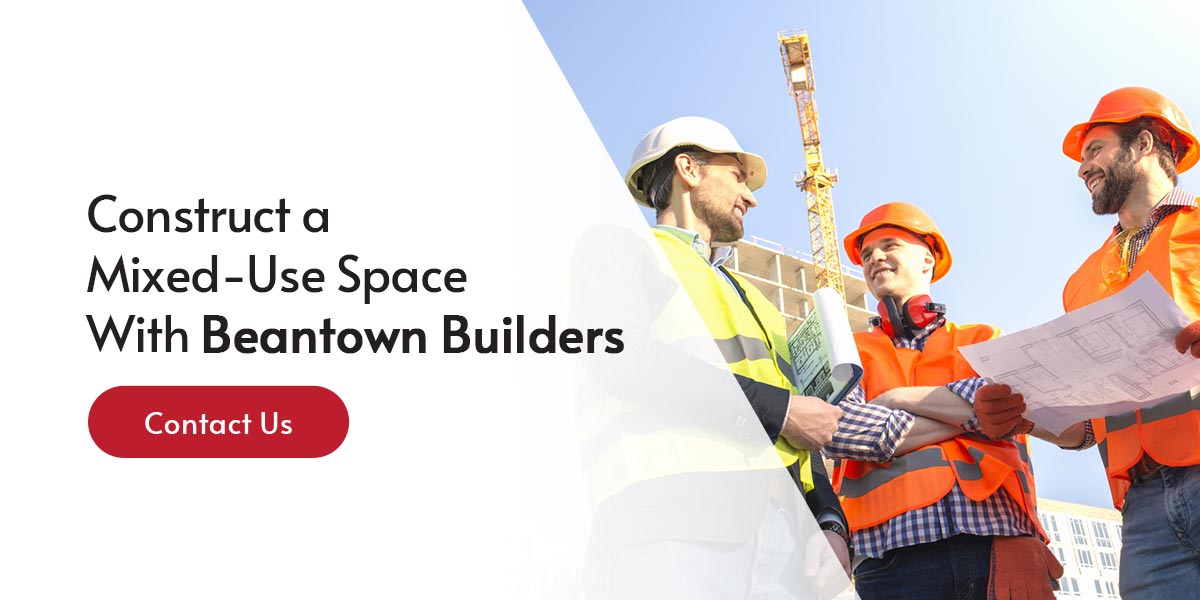 Construct a Mixed-Use Space With Beantown Builders
Remodeling a space before turning it into a mixed-use space is an excellent way to draw in residents and commercial businesses looking for a new place to call home. Remodeling allows you to update the technology, infrastructure and appearance of a space, making it look and feel modern and renewed.
The expert mixed-use building contractors at Beantown Builders are here to help you find a new purpose for your space. Contact us today to learn more about how we can help you take your space to the next level!