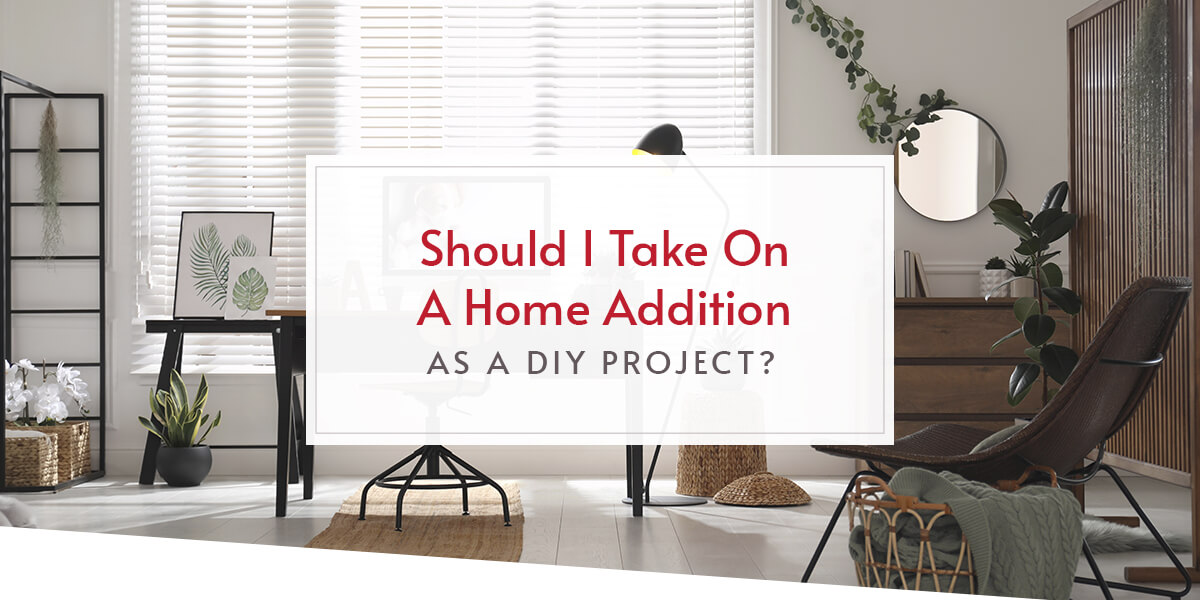 When you're taking on a home addition, there are a lot of aspects to keep in mind. When you look at the costs, the prospect of a do-it-yourself (DIY) project can start to look appealing. However, home additions are very intricate and require experienced, professional knowledge to ensure that the finished project is quality and lasting.
Usually, it's best to find a professional service who knows exactly how to bring your home addition idea to life. In this article, we'll look at various home addition ideas and discuss how to prepare for a new home addition.
Home Addition Ideas
When it comes to putting an addition on a house, you have a lot of control over aspects like size, interior design and function. The hardest part can be sorting through endless lists of ideas to find something that fits your needs. Here are some common and quality ideas that might be right for your situation.
Kitchen
Kitchen additions are very popular — if you're looking for just a little bit more room to cook and eat, then a small bump-out kitchen addition could be a perfect idea. This option could give you some extra space for a counter and extra cabinets or a cozy breakfast nook. Though it might add only a hundred feet or so, a kitchen addition can dramatically change the feel of a home and improve your property's value.
Bathroom
Many home improvement projects involve bathrooms and for a good reason — they're one of the most functional and beneficial additions out there. Whether you're looking to decrease some traffic in a busy household or just want an extra restroom for guests, bathroom additions are great ways to achieve your goals. With an addition, you'll also be able to design it as you like and modernize the space with sleek appliances.
Mudroom
It's easy to track dirt from the outside, especially if you have kids or pets. Mudroom additions can offer a great solution, creating a separate space where you can keep those dirty clothes and shoes before they impact the rest of the home.
Sunroom
If you're looking to add some natural light to your home, then a sunroom is a top option for you. You can construct a beautiful addition to your home with wide windows and views out into nature. It can be a way to connect with the outside world while staying comfortable in your own home.
Home Office
Nowadays, more and more people are taking advantage of remote work. A lot of time we'll need to make more space for our workday — that's where a home office addition can be very beneficial. You'll be able to carve out space for monitors, cabinets, a router and whatever else you need to be productive throughout the day.
Dormer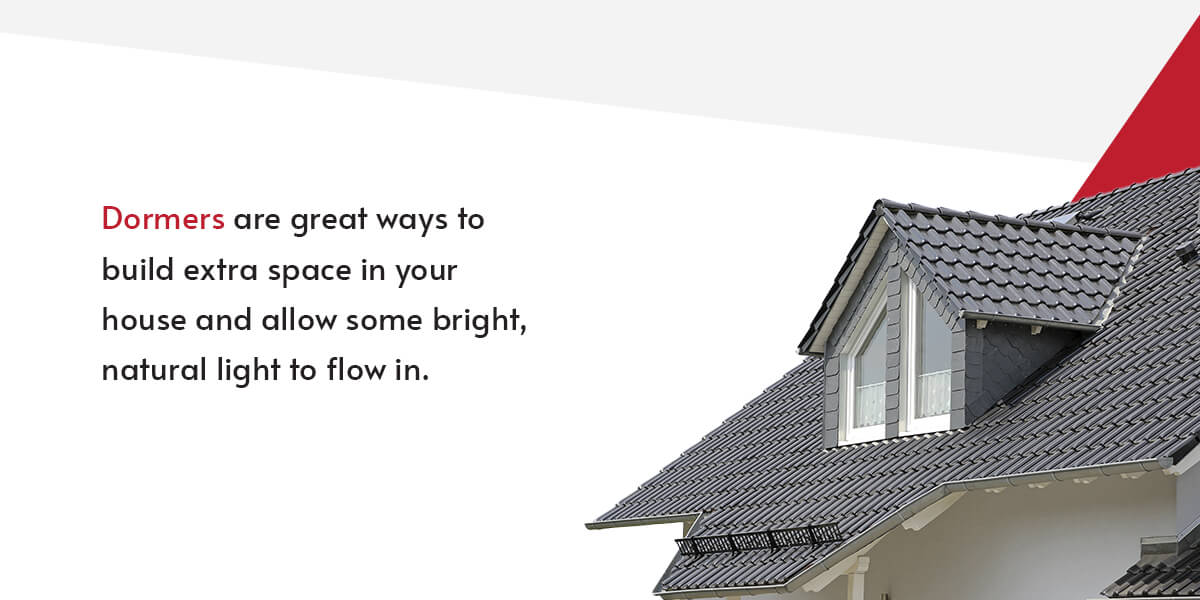 If you want some more natural light but don't need the full expanse of a sunroom, then installing a dormer in your home could be efficient for your needs. Dormers are great ways to build extra space in your house and allow some bright, natural light to flow in.
Garage
A garage addition may be an attractive option for extra space for a new car or general storage. These can be very effective for securing belongings, keeping them at a constant temperature and also adding value to your home.
Getting Started
Once you've decided on a home addition idea, it's time to start the planning process. Proper planning is essential so that you can effectively bring your idea to life. But when you do finally tip your toe into home additions, you could be wondering where to start.
Once you've decided on an idea, you should begin taking actionable steps towards that goal. First, it's helpful to identify what you need. Try to nail down specifically what kind of addition you're looking for and the function it will serve. Articles like these can help you get a feel for different types of additions.
Next, consult with your local government to see what permits you'll need to build an addition. Start narrowing your idea further and envision designs and the amount of space it will take up. The more specific you are with your design idea, the easier it will be to create a finished product that you'll be satisfied with.
How to Prepare for a Home Addition
Home additions are often big undertakings — requiring daylong construction and adequate investment. It's important to consider the various steps to build an addition to a house so that you don't rush through a big project without guardrails.
Understand the amount of construction and costs it will take to add an addition to your home. The good thing about home additions is that they will likely add value to your home, so you can view it as an investment. You'll want to ensure that you keep a close eye on costs and view the various financing options.
Financing Options
In many cases, it's cheaper to add on to a home rather than build up. Still, you'll want to find effective ways to finance your project.
You'll have a few different options to finance your home addition. In some cases, you may want to save and create a separate fund for your home addition — when you reach a certain amount, you'll be able to invest this in the design you want. Other options include loans you take out, which can help fund your project.
What You'll Need
If you are looking to try to take on a home addition yourself, you'll be taking on a lot of work. You'll need to gather an assortment of tools based on the project. These could include plumbing, wiring, foundational, carpentry, roofing tools and more. Along with tools, you'll need to acquire the materials needed for your projects, such as framing lumber, foundational materials, siding and trim, windows and doors, paint, fasters, electrical components and more.
Though you can DIY a home addition, you'll want to make sure that you have the necessary experience before you begin. Shoddy work can lead to various problems such as poor electric work or a faulty foundation, which can cause major issues in the future.
An easier, more effective option may be to contact a general contractor who can guide you through the process.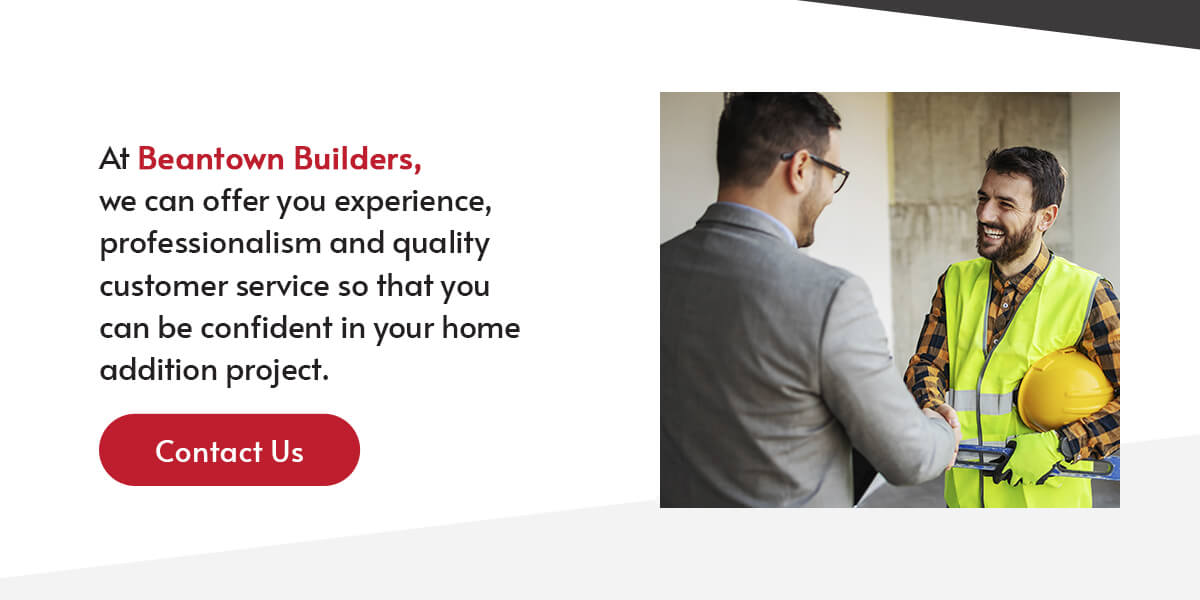 Contact Beantown Builders
Home additions take a lot of planning, organization and work. It's important to enlist the help of a professional organization that can take some stress off your shoulders and bring your home addition idea to life.
At Beantown Builders, we can offer you experience, professionalism and quality customer service so that you can be confident in your home addition project. We'll work with you the whole way and ensure that you're satisfied with the finished product. Contact us today!